Making an MDAKit
Here, we outline the process of creating an MDAKit that fulfills all of the requirements for acceptance into the MDAKit registry. For a video walk-through of this tutorial, watch our recorded tutorial on YouTube.
Unlike the code in the core MDAnalysis library, the structure of an MDAKit is much less restrictive. In order to be accepted, there are several requirements that must be addressed:
Code in the package uses the MDAnalysis library

The code is open source and published under an OSI approved license

Code is versioned and provided in an accessible version-controlled repository (GitHub, GitLab, Bitbucket, etc.)

Code authors and maintainers are clearly designated

Minimal documentation is provided (what your code does, how to install it, and how to use it)

At least minimal regression tests are present; continuous integration is encouraged
It is also highly encouraged that the MDAKit also satisfies:
Code is installable as a standard package

Information on bug reporting, user discussions, and community guidelines is made available
These requirements ensure that registered packages are FAIR-compliant and hold up to an ideal scientific standard. Without prior experience, some of the requirements listed above can be daunting. To aid in this process, we make use of the MDAKit cookiecutter in this example.
Building from an existing project
Registering an existing package as an MDAKit is a straightforward process. Since the structure of an MDAKit is not as strict as the code found in the MDAnalysis core library, chances are very little restructuring is needed for registration. The primary concern is ensuring that the core MDAKit requirements are met, as listed at the top of this document.
Registering an MDAKit
The MDAKit registration is the same regardless of the creation process for the kit. For simplicity, the follow examples will reference the rmsfkit MDAKit created in the cookiecutter section. In order to submit your MDAKit to the registry, you will need to create a pull request on GitHub against the MDAnalysis/MDAKits repository. Do this by creating a fork of the MDAnalysis/MDAKits repository. Clone the fork to your machine, navigate into MDAKits/mdakits/, and make an empty directory with your MDAKit name:
git

 

clone

 

[email protected]:yourusername/MDAKits


cd

 

MDAKits/mdakits
mkdir

 

rmsfkit/


cd

 

rmsfkit

Add the metadata.yaml for your MDAKit in this directory (see Specification of the metadata.yaml file for details). The contents of metadata.yaml for rmsfkit are:
project_name

:

 

rmsfkit




authors

:




  

-

 

https://github.com/yourusername/rmsfkit/blob/main/AUTHORS.md




maintainers

:




  

-

 

yourusername




description

:




    

An analysis module for calculating the root-mean-square fluctuation of atoms in molecular dynamics simulations.




keywords

:




  

-

 

rms




  

-

 

rmsf




license

:

 

GPL-2.0-or-later




project_home

:

 

https://github.com/yourusername/rmsfkit




documentation_home

:

 

https://rmsfkit.readthedocs.io/en/latest/




documentation_type

:

 

API





## Optional entries




src_install

:




  

-

 

git clone https://github.com/yourusername/rmsfkit.git




  

-

 

cd rmsfkit/




  

-

 

pip install .




python_requires

:

 

">=3.9"




mdanalysis_requires

:

 

">=2.0.0"




run_tests

:




  

-

 

pytest --pyargs rmsfkit.tests




development_status

:

 

Beta



Commit and push this to your fork:
git

 

add

 

metadata.yaml
git

 

commit

 

-m

 

"Adding rmsfkit"


git

 

push

 

origin

 

main

Refresh the forked repository page in your browser. Under "Contribute", open a pull request. Add a title with the name of the kit and add a quick description. Click "Create pull request" and wait for the tests to pass. Once this is done, you can add a comment along the lines of "@MDAnalysis/mdakits-reviewers, ready for review". The reviewers will get back to you with any change requests before merging it in as a kit. At this point there are no additional steps for registering your kit!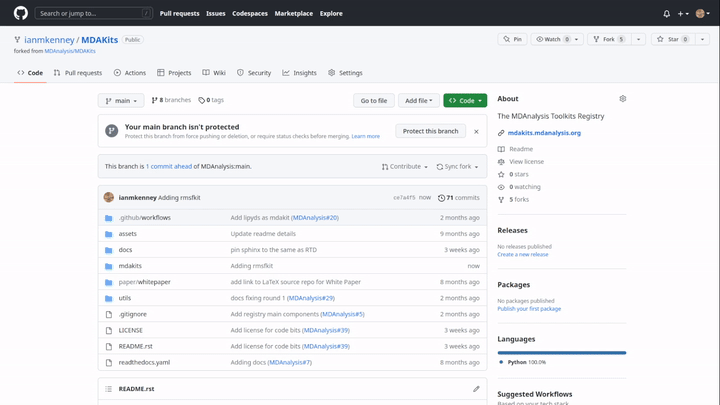 Maintaining a kit
There are a variety of reasons a kit may behave unexpectedly after being submitted to the registry. Apart from actively developing the kit, changes in kit dependencies, or even Python itself, can introduce (deprecate) new (old) functionality. For this reason, the kits' continuous integration is rerun weekly to confirm the kits expected behavior. In the event that a kit no longer passes its tests, an issue in MDAnalysis/MDAKits is automatically raised while notifying the maintainers indicated in the metadata.yaml file. While the registry developers will be happy to help where possible, ultimately, the maintainers of the MDAKit are responsible for resolving such issues and ensuring that the tests pass. The issue will automatically close after the next CI run if the tests pass again.